Summary
This edition of Health Matters focuses on the range of smoking quitting routes that are available and the evidence for their effectiveness. Two-thirds of smokers say they want to quit, however most try to do so unaided, which is the least effective method. Smokers who get the right support are up to four times as likely to quit successfully.
Scale of the problem
Smoking is the leading cause of preventable illness and premature death in England, with about half of all life-long smokers dying prematurely, losing on average around 10 years of life. In 2016 alone, there were around 78,000 deaths attributable to smoking, representing 16% of all deaths across the UK.
The adult smoking rate in England is continuing to decline year on year and is now at a record low. In 2017, 14.9% of people in England aged 18 years and above smoked, accounting for 6.1 million people. If this trend continues it will reduce to between 8.5% and 11.7% by 2023. PHE is calling for the NHS long-term plan to commit to achieving a smokefree society by 2030 with an adult prevalence of 5% or less.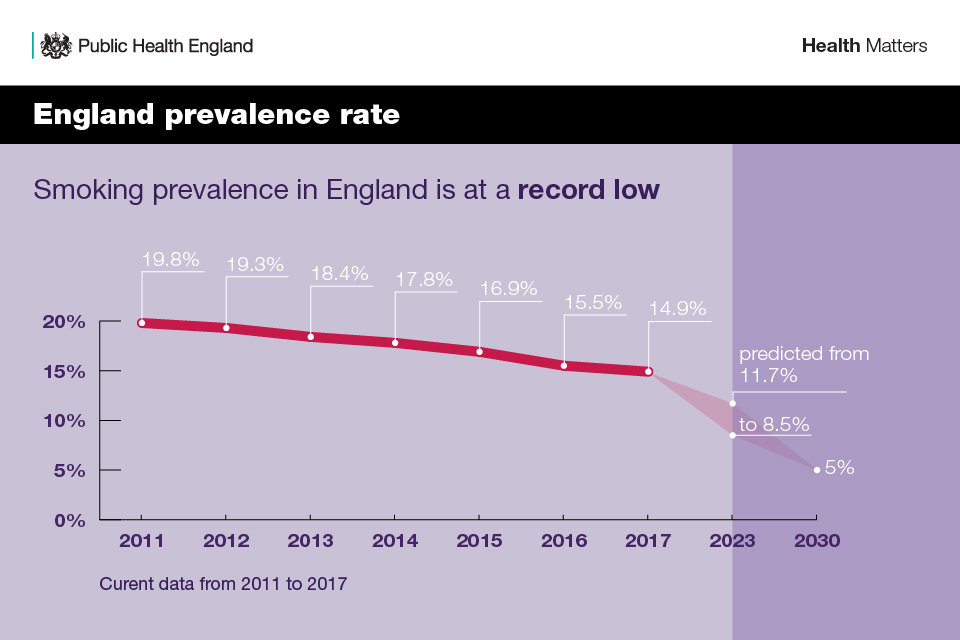 The largest reduction in smoking prevalence has been among 18 to 24-year-olds – 17.8% of this group smoked in 2017 compared with 25.7% in 2011. Those aged 25 to 34 years continue to have the highest proportion of current smokers at 19.7%, which equates to around 1.6 million people. Those aged 65 years and above continue to have the lowest prevalence rates at 8.1%, equating to around 914,000 people.
The evidence on nicotine
Perhaps the greatest obstacle we face is the widespread misconception amongst smokers and health professionals that most of the harm of smoking comes from the nicotine.
While nicotine is the addictive substance in cigarettes, it is relatively harmless. In fact, almost all of the harm from smoking comes from the thousands of other chemicals in tobacco smoke, many of which are toxic.
Nicotine replacement therapy is a safe form of treatment and licensed for use even in pregnancy and for people with cardiovascular disease. Nicotine increases heart rate and blood pressure, and has a range of local irritant effects, but is not a carcinogen. It is the tar and carbon monoxide in cigarette smoke, along with over 400 other toxins, that causes almost all of the harm of smoking.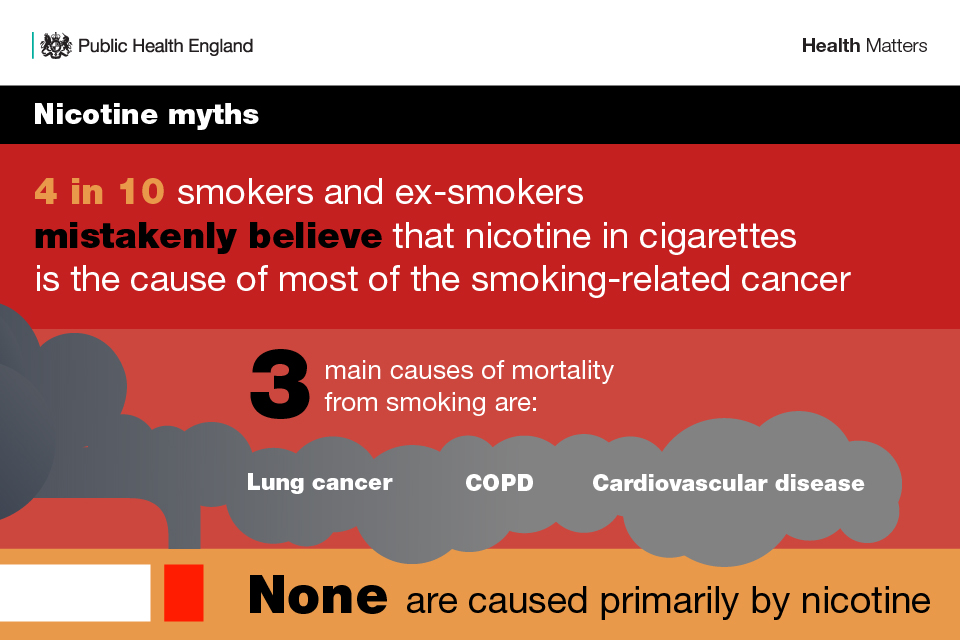 Smoking and health inequalities
As smoking prevalence has declined, it has become increasingly concentrated among more disadvantaged communities and groups:
around 1 in 4 people in routine and manual occupations smoked, compared with 1 in 10 people in managerial and professional occupations
people who are unemployed are almost twice as likely to smoke as those in work
smoking prevalence among adults with a serious mental illness is over two and a half times the national average
The Tobacco Control Plan for England (2017) sets out the ambition to "reduce the inequality gap in smoking prevalence, between those in routine and manual occupations and the general population".
Smoking during pregnancy is also a major health inequality, with prevalence varying significantly across communities and social groups:
smoking prevalence among pregnant women in more disadvantaged groups and those aged under 20 remains considerably higher than in older and more affluent groups
mothers in routine and manual occupations are 5 times more likely to have smoked throughout pregnancy compared to women in managerial and professional occupations
The decline in the prevalence of smoking during pregnancy has stalled in recent years, with over 1 in 10 babies in England born to a mother who smoked throughout her pregnancy. Latest figures from NHS Digital found that 10.4% of pregnant women were known to be smokers at the time of delivery.
In some areas, this is as high as 1 in 4. Reducing smoking during pregnancy is one of the three national ambitions in the Tobacco Control Plan: "reducing smoking amongst pregnant women (measured at the time of giving birth) to 6% by the end of 2022".Just 33 out of 195 Clinical Commissioning Groups (CCGs) in England met the national ambition of 6% or less.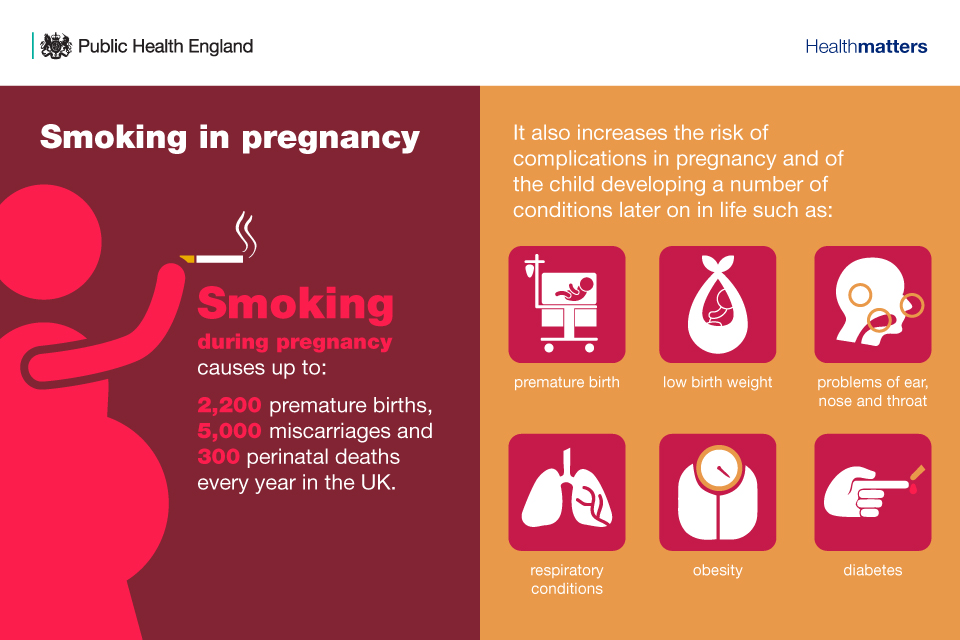 The impact of smoking on health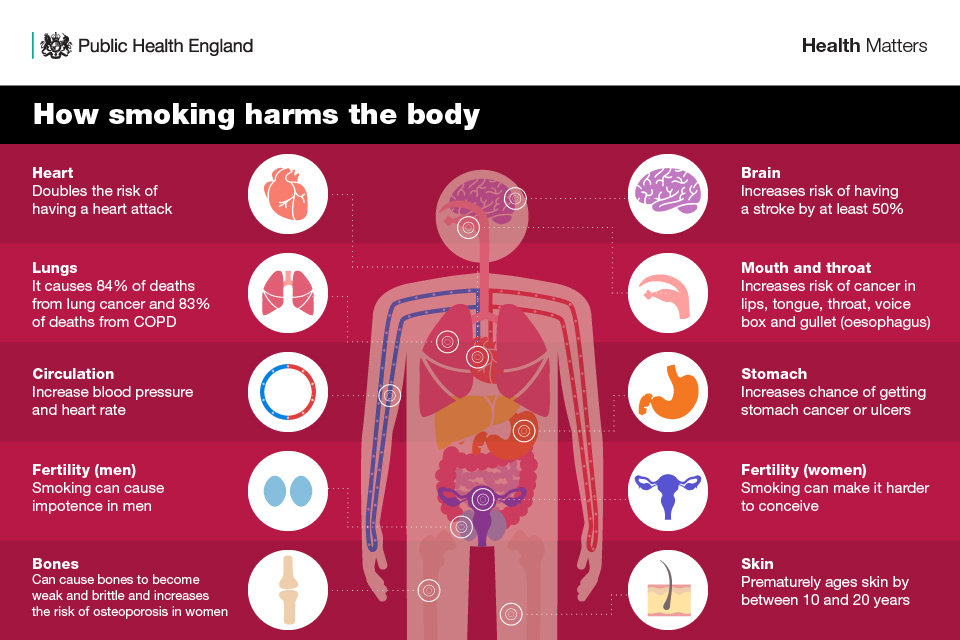 The cost of smoking to society
Smoking places a considerable burden not only on individuals, but also on the NHS, and the wider economy and society.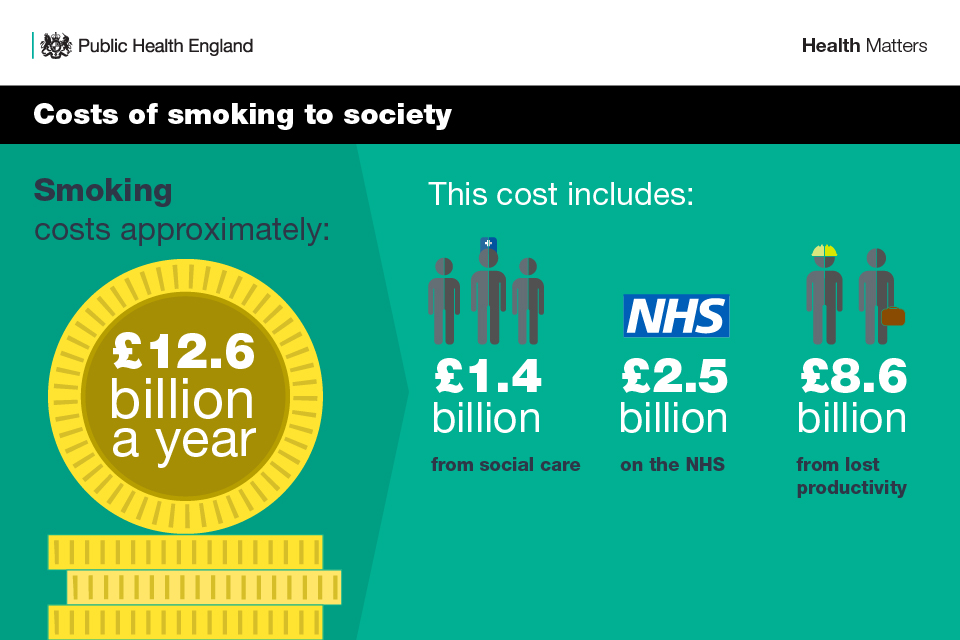 According to the ONS, in 2016 to 2017 there were an estimated 485,000 smoking-related admissions to hospital, equating to over 1,300 per day. Smokers also see their GP 35% more than non-smokers, and these costs add a great burden to a system already dealing with growing demand.
There are also increased costs for the adult social care system. The All Party Parliamentary Group on Smoking and Health has estimated that as a result of smoking-related health conditions, local councils face a demand pressure of £760 million a year on domiciliary care services.
Creating a smokefree society: the role of the NHS
Although there are now 1 million fewer smokers than in 2014, 6.1 million adults in England are still subject to the devastating harm tobacco causes. Therefore, reducing smoking remains one of PHE's key priorities.
PHE is calling for the NHS long-term plan to commit to achieving a smokefree society by 2030 with an adult prevalence of 5% or less.
Smoking is not a lifestyle choice but a long-term relapsing condition. Every patient or staff member who smokes must be offered the support they need to quit and PHEwants to see NHS trusts stepping up their efforts in establishing a smokefree NHS by 2020.
Reducing smoking rates is the single biggest thing we can do to improve the nation's health. It will reduce cardiovascular disease, respiratory conditions, and cancer, meaning people can live longer in better health, and according to the Royal College of Physicians (RCGP) it will save the NHS up to £890 million a year.
Stop smoking support options and their effectiveness
In England, around 60% of smokers want to quit, 10% of whom intend to do so within 3 months.
Currently, around half of all smokers in England try to quit unaided using willpower alone, despite this being the least effective method. Getting support can greatly increase a person's chances of quitting successfully:
using nicotine replacement therapies (NRT) or e-cigarettes makes it one and a half times as likely a person will succeed
a person's chances of quitting are doubled if using a stop smoking medicine prescribed by a GP, pharmacist or other health professionals
combining stop smoking aids with expert support from local stop smoking services makes someone up to four times as likely to stop smoking successfully
The following section details the range of quitting methods and their effectiveness.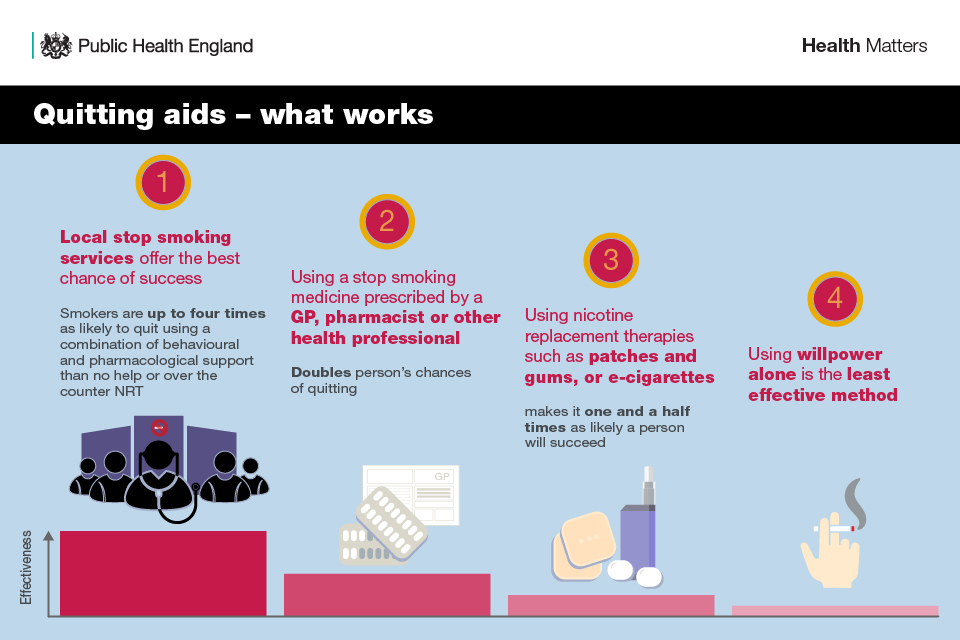 Expert face-to-face support
There is clear evidence that the most effective way to quit smoking is with expert behavioural support from local stop smoking services combined with stop smoking aids. These include the prescription tablets Varenicline and Bupropion, nicotine replacement therapies and e-cigarettes. Smokers who get this package of support are up to 4 times as likely to quit successfully as those who try to quit unaided or with over the counter nicotine replacement therapy.
Prompts by healthcare professionals are the second most common reason for someone to make a quit attempt. Effective referral routes from both primary and secondary healthcare are important to ensure that all smokers who need it get this specialist support. GPs are normally the first point of contact for patients.
As a matter of routine, they should make every contact count and identify smokers and offer smoking cessation interventions. It is, therefore concerning that the number of smokers receiving an offer of support from in primary care has been falling steadily for a number of years.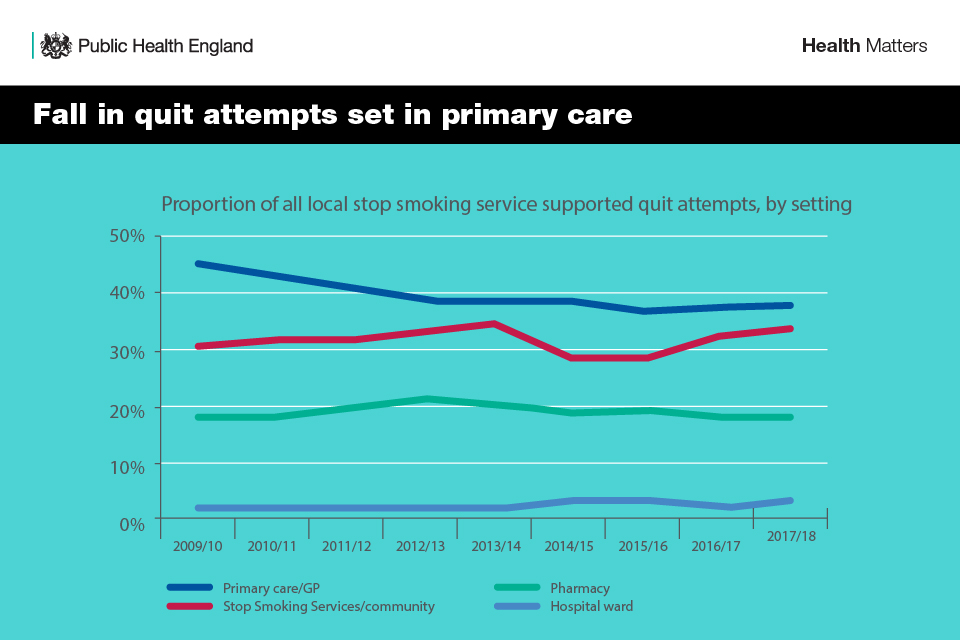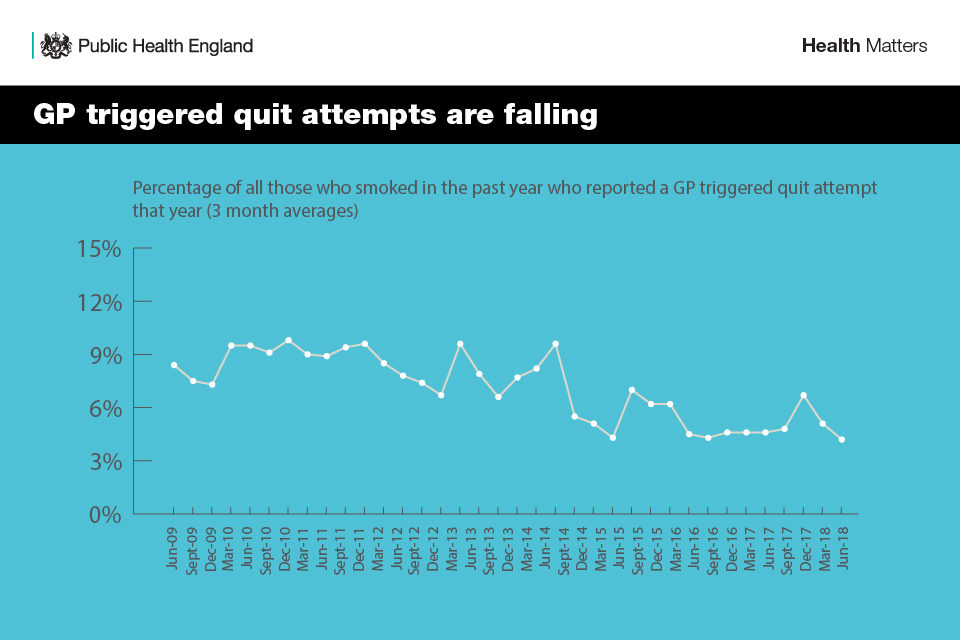 Around 16 in 100 people remain non-smokers a year later when they choose to quit with support from a trained stop smoking advisor and use a stop smoking aid.
All healthcare professionals should identify and refer smokers using the method known as Very Brief Advice (VBA) which has 3 components, Ask, Advise and Act:
ASK and record smoking status; is the patient a smoker, ex-smoker, or non-smoker?
ADVISE on the best way of quitting; the best way of stopping smoking is with a combination of stop smoking aids and specialist support
ACT on patient response; build confidence, give information, refer, and prescribe
PHE has published 'Stop smoking options: guidance for conversations with patients' to support conversations between clinicians and people who want to quit smoking, on what method to choose.
Stop smoking aids
There is good evidence to show that using stop smoking aids increases people's chance of quitting success, particularly when combined with expert face-to-face support from a local stop smoking service. There are 3 types: